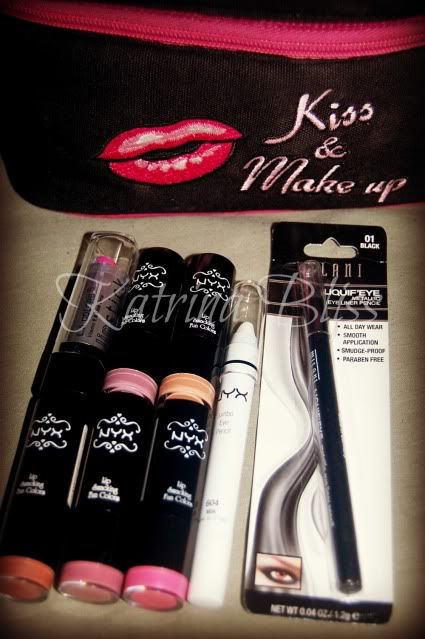 La colors lipstick in pink parfait, Nyx round lipsticks, Nyx jumbo pencil in milk, and Milani liquifye metallic eyeliner pencil in black.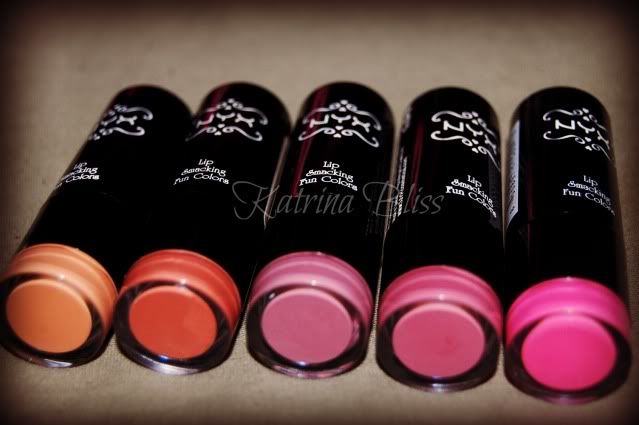 Orange Soda, Goddess, Power, Paris, Narcissus
(as you can see goddess is my favorite)
(Paris is my second fav)
I find the quality good, since im a fan of creamy lipsticks. Very pigment and feels so smooth that i dont need lipbalm before applying it. Aside from the price of these lippies and the smell of it which i really like, Nyx carries 144 shades of their round lipsticks and since i loved these i am getting more of the colors i like, those in nudes and pinks.
Right now i have 5 liners one from sephora, wet & wild, maybelline and mac then this milani liquifye liner. See how nice it is. This is my favorite liner right now . Very pigmented even more pigmented than the other liners and be aware of the fact that i got this liner for a very affordable price like less than 300. It glides on so smoothy and very waterproof (super duper!) lol sorry had to put that expression coz its really so good makes me wanna make that expression. Doesnt smudge and im a huge fan of waterproof liners since the weather here is hot and i dont wanna be lookin like a racoon or some emo kiddo (rude, i know! but true.) and lastly it is intensely black. i love love love it!
Nyx jumbo pencil in milk,all i can say is its really smooth, soft kind of pencil/liner. I use it all over my lids until the lower part of my eyebrows before putting on eyeshadow to make it more intense. It works wonders because it brings out the real color of the shadows and makes it look vavavoom. (lol) i also used it on my waterline and its really a shocking white.
SWATCHES
If youre looking for a cheap but nice pink creamy lipstick, i will recommend La colors in pink parfait. Its a really nice pink although not long lasting. I got it (La colors counter, sm department store, robinsons etc.)
I got my NYX products and Milani from one of my favorite pre-order store, NYX WHOLE SALE PH of the pretty miss mary, shes one of my favorite sellers because she answers my texts right away and responds to all my questions :) First time i ordered on her site, she was there chatting with me on facebook, guiding me through. Check out her website :